A Countdown to our Favorite Christmas Destination
The Christmas season is taken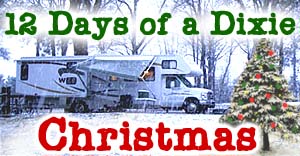 pretty seriously in the southeastern US, and the Richardson Tribe has a dozen suggested destinations to make your holidays more adventurous. Over the next 12 days, we will reveal each of our favorite RV camping and recreation spots until we reach our #1 Christmas Holiday Destination. Come back each day to see the places this southern family has grown to love.

---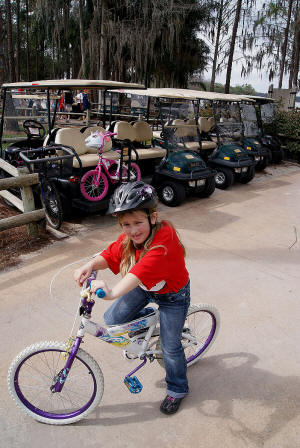 Ok, we love state parks, nature, and low cost vacations, so why is a Disney property on our list? Well, it's because Fort Wilderness is actually an affordable way to visit Disney and other surrounding attractions. It's also an awesome campground with an incredible list of amenities. As a Disney property, you can imagine.
First, the full hookup RV campsites are large, level, and private with lots of surrounding tropical vegetation. There is a massive year-round pool (with water slide and entertainment), rental boats, a beach, stores, shows, restaurants, horseback riding, hiking, wildlife, golf carts, and shuttle busses that will take you anywhere within Fort Wilderness. I need to point out that golf carts, bikes, and shuttles are the primary modes of transportation within the park. Cars are expected to be left at the campsite. Perhaps the most popular mode of transportation at Fort Wilderness is the ferry that carries guests across the lake to the Magic Kingdom. No waiting in line here. If you are a guest of Disney resorts, you move straight to the front.
Returning to Fort Wilderness from Disney's Magic Kingdom is just as
painless as getting there. Guests board the ferry at the Magic Kingdom back gate and are dropped-off just a few yards from their bikes and golf carts.
The pool is especially popular with the kids at Fort Wilderness. There is constant entertainment, music, games, all targeted at the youth. When was the last time you could relax in the warm sun and let someone elsse take care of entertaining your kids. Sorry folks. Everyone needs a break every once in a while.


The evenings are awesome at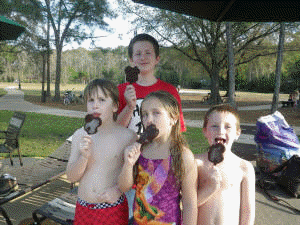 Fort Wilderness. The campsite decorations are incredible, but the Magic Kingdom fireworks are even more spectacular. There is also an amphitheater that shows movies after dark. This event is a lot of fun for the whole family because it includes a bon fire and s'mores.
If you would like to see more pictures and details about Fort Wilderness,
click here
. Come back tomorrow when we reveal our 3rd favorite Christmas holiday destination.