A Countdown to our Favorite Christmas Destination
The Christmas season is taken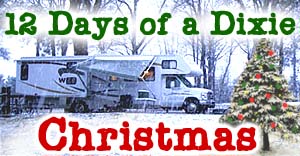 pretty seriously in the southeastern US, and the Richardson Tribe has a dozen suggested destinations to make your holidays more adventurous. Over the next 12 days, we will reveal each of our favorite RV camping and recreation spots until we reach our #1 Christmas Holiday Destination. Come back each day to see the places this southern family has grown to love.

---

#2 - Dollywood - Pigeon Forge, Tennessee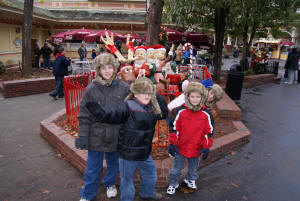 Considering some of the other Christmas destinations listed in our top twelve, our number two choice may be a bit of a surprise. Well, as I mentioned previously, this was put to a vote, and the kids were unanimous on this selection.
It's understandable. Dollywood has tons of Christmas decorations, shows, and music. Add to that dozens of amusement rides and games, crisp cool Smoky Mountain air, and a real steam locomotive, and the environment is perfect for unlimited holiday fun.
The park's general theme, besides the affiliation with Dolly Parton, is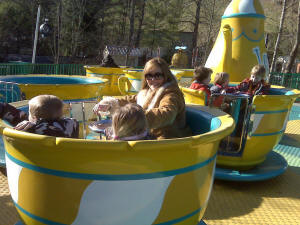 southern country charm. It's not a put-on. Folks that work here are typically real southerners, and in some cases, related to Dolly herself. There are numerous shops that sell the work of local artisans including leather goods, musical instruments, and candles. There is also a blacksmith demonstrating his trade.
Regarding amusement rides, there is a surprising variety from spinning tea cups to monster roller coasters. Most of the fast rides have cameras stationed at the most scary parts to capture your worst, most terrified expressions. Here we are riding the Mystery Mine, and Heath's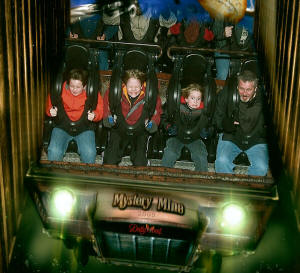 expression is that of absolute terror. The funny thing is, after the ride was over, the first words out of his mouth were "let's do it again!"
There are many impressive things about Dollywood, but the park's cleanliness and staff's professionalism are perhaps the most obvious. Everyone seems to have a job to do, and they do it with a smile.
Dollywood is located in a very popular area on the Tennessee side of the Smoky Mountains National Park. Pigeon Forge and nearby Gatlinburg are known for their musical and comedy shows, go carts, helicopter rides, museums, miniature golf, candy shops, rock shops, and pretty much anything related to tourists and the Smoky Mountains. There is an awesome aquarium in Gatlinburg that must be mentioned.
When visiting Dollywood, we
typically RV camp at nearby Townsend KOA. It's far enough away from the crowds to be peaceful, but near enough to be convenient. The campground has lots of activities for the kids, and the riverside campsites are very picturesque.
So there you have it. Our second favorite Christmas destination is Dollywood in Pigeon Forge, Tennessee. Tune in tomorrow when we reveal our absolute favorite place to be on Christmas.