A Countdown to our Favorite Christmas Destination
The Christmas season is taken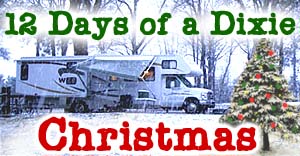 pretty seriously in the southeastern US, and the Richardson Tribe has a dozen suggested destinations to make your holidays more adventurous. Over the next 12 days, we will reveal each of our favorite RV camping and recreation spots until we reach our #1 Christmas Holiday Destination. Come back each day to see the places this southern family has grown to love.

---

1 - Home Sweet Home
We hope our #1 favorite Christmas destination doesn't disappoint our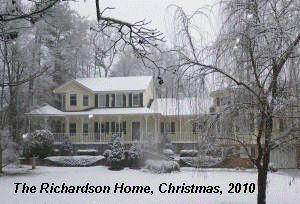 readers. But the fact is, as much as we enjoy travel, camping, and adventure, sharing Christmas day at home with our extended family is most important.
As a rule, the entire Richardson family comes together at Granny and Paw Paw Richardson's home for a Christmas day brunch each year, exchanging gifts, and visiting with brothers. sisters, cousins, aunts, and uncles. It's a lot of fun, and it's a family tradition. We live next door to Granny and Paw Paw, so it's really easy to have our traditional early Christmas morning at home, then walk (or ride) up the hill for our late morning meal.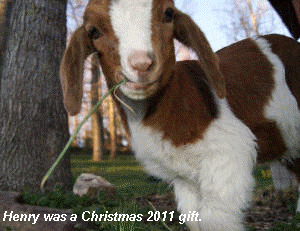 We are fortunate to live in a rural north Georgia setting surrounded by family where we can run and play to our heart's content. Many of the outdoor things we like to do on the road are also available right here at home. We can shoot our bows and arrows, ride Herbie (our golf cart), fish, and play with our animals (we have four goats, three bunnies, two cats, and eight chickens).
This year, we decided to add some new outdoor goodies to our stable. Santa brought two motorcycles and two ATVs, perfect for our little family. I suspect these new toys may lead to a whole new set of adventures.
So, there you have it. The Richardson Tribe's absolute favorite place in the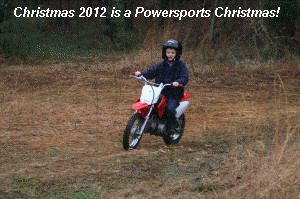 whole wide world to spend Christmas day is home sweet home. Now, the day after Christmas, that's another story. We'll be heading for the Smoky Mountains and some snow skiing at
Cataloochee ski area
, maybe
Dollywood
, and maybe the
Biltmore Estate
. We are excited to be staying at a new place in Maggie Valley this year. Who knows what other adventures we might discover.
Merry Christmas everyone. Now, go somewhere and do something!