A Countdown to our Favorite Christmas Destination
The Christmas season is taken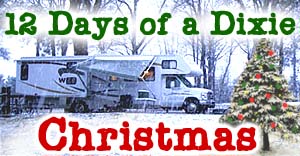 pretty seriously in the southeastern US, and the Richardson Tribe has a dozen suggested destinations to make your holidays more adventurous. Over the next 12 days, we will reveal each of our favorite RV camping and recreation spots until we reach our #1 Christmas Holiday Destination. Come back each day to see the places this southern family has grown to love.

---
#3 - Cataloochee Ski Area - Maggie Valley, North Carolina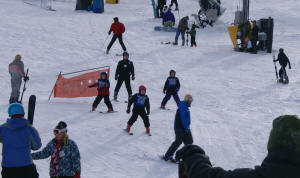 We voted democratically, and the kids quite adamantly expressed their opinion: Snow skiing is awesome! Cataloochee Ski Area, just up the mountain from Maggie Valley, North Carolina (near Asheville), is a great southern snow ski destination. There aren't many that fit this category (southern ski area), but Cataloochee does a respectable job fitting the bill. Another benefit of Cataloochee is the snow. For our northern friends, this may seem strange. But southerners don't see much snow, so when we do, fake or not, it's a big deal.
Last year (2011) we visited Cataloochee at Christmas Break, and the kids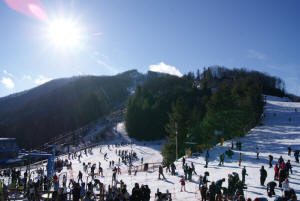 all participated in ski school. They were assigned an instructor that worked with just the four of them, and he was awesome. He was so patient and great with the kids. By the end of the day, they were going up the lift and skiing down the big slopes (cautiously). We expected that they would be exhausted and ready to go back to the camper, but they didn't want to leave.
Cataloochee is a ski area, not a resort, so the "lodge" is actually just a place to rent equipment, eat, shop, and warm up. It's not a place to stay overnight. Don't worry, there is plenty of lodging available in Maggie Valley and the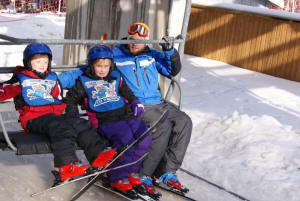 surrounding area. In past seasons, we have RV camped locally at Stone Bridge RV Resort, but we weren't pleased with the condition of the campground last time, so we're trying a new place this year (shhhh, it's still a Christmas secret).
Locally, there are many other things to do. There is a snow tubing facility, a motorcycle museum, gem mining, restaurants, the Smoky Mountain National Park, Cherokee, Asheville, and another of our favorite Christmas Holiday Destinations, the
Biltmore Estate
.
So, Cataloochee Ski Area is the Richardson Tribes third favorite Christmas destination. For lots more pictures and details about Cataloochee, click here. Come back tomorrow when we reveal our #2 pick.

The Smoky Moubntains are beautiful here at Cataloochee.