A Countdown to our Favorite Christmas Destination
The Christmas season is taken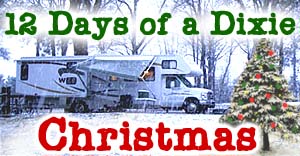 pretty seriously in the southeastern US, and the Richardson Tribe has a dozen suggested destinations to make your holidays more adventurous. Over the next 12 days, we will reveal each of our favorite RV camping and recreation spots until we reach our #1 Christmas Holiday Destination. Come back each day to see the places this southern family has grown to love.

---
Stone Mountain Park is a southern icon, and it's also the Richardson Tribe's 5th favorite Christmas holiday destination.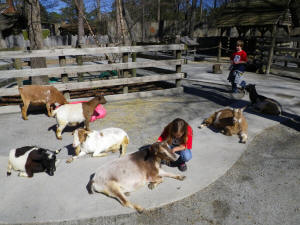 Stone Mountain has lots of features that make it a favorite. First, and most obvious, is the mountain itself. Billed as the world's largest piece of exposed granite, Stone Mountain is very unique in its looks and its origin.
The vertical face of the mountain features the largest bas-relief sculpture in the World. The sculpture is a memorial of three key Confederate figures: Stonewall Jackson, Robert E. Lee, and Jefferson Davis.
This side of the mountain is also the site of a spectacular weekend (April thru October) laser and fireworks show. Additionally, Stone Mountain Park has the largest campground in the state, hiking, biking, a passenger train, 4D theater, miniature golf, Duck rides, a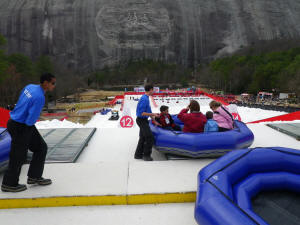 gondola ride to the top, farm animals (of course), and much much more.
During the winter months, the large hillside opposite the massive sculpture is converted into a tubing slide and snow play area called Snow Mountain. Even with 60 degree weather, they'll still be making snow. The process is pretty interesting to see. For a fee, visitors can spend a couple of hours enjoying the tubing experience. There is also a kiddy slope and a snow play area. It's as close to a white Christmas as many of these southern kids will ever see.
As the Sun sets during the Christmas season, the park's two million plus Christmas lights and decorations come to life. There are special Christmas
shows in the village, Santa is in attendance, and plenty of yummy treats can be found in the restaurant and shops. Evenings are concluded with a fantastic Christmas themed fireworks show.
When visiting Stone Mountain, we RV camp at the park's campground. If you visit the
PB&J Adventures website
, you will find that we have very mixed emotions about the campground. It has so much potential, and some of the campground is ok, but most of the sites are in pretty rough shape. Still, regardless of the campground's condition, the view across the lake, especially at sunset, is second to none.

If you would like to see more pictures and details about the Stone Mountain Park,
click here
.
Come back tomorrow when we reveal our 4th favorite Christmas holiday destination.