An Unexpected Surprise - More
Adventure Journal - Entry Date: November 2011
It's been a few years since we last visited the Chattanooga Zoo.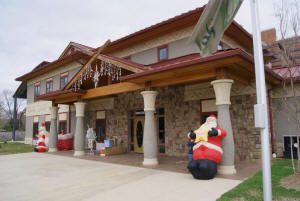 In fact, the last time we came to the park was in 2007 o
n our very first camping trip in our old motorhome (Homer I). We really liked the zoo back then, but its location and entry left a lot to be desired.
Now, fast forward almost five years...
When we arrived at the zoo on this visit, we were pleasantly surprised to see a beautiful new entrance and gift shop. Apparently, the Chattanooga community is investing a lot of money into make their zoo a top-notch facility, and they spared no dime on work completed thus far. Even in Winter, it's obvious the landscaping is beautiful. A family of sculptured bronze chimpanzees welcomed us as we passed through the front gate.
Once in the park things began to look more familiar. It's a relatively small zoo, but there is a wide variety of
animals on display. The kids were immediately drawn to the large chimpanzee exhibit in the center of the zoo. The chimps have a large outside area which resembles a jungle with vines draped around for play. Only glass separates visitors from the chimpanzees, and the animals seem to like the attention. They will come up to the glass and make gestures at the strange humans on the other side of the glass.
As we wandered through the zoo, the children were constantly entertained by the animals. We really love goats and other domestic livestock, so the "Warner Park Ranch" part of the zoo was especially popular for us. We also enjoyed the red pandas, parrots, snow leopards, and various monkeys. There is something really special about seeing these animals up close.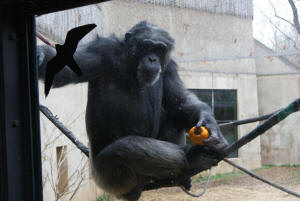 As a part of the park's renovation, they will be updating many of the habitats as well as adding a whole new section. We are excited at the prospect of having such a nice zoo in Chattanooga, and can't wait for the changes to take place. If you are interested in visiting, don't wait for the changes. The zoo needs support now, and you will not be disappointed.

For more information about the Chattanooga Zoo including dozens of pictures, click here.