Unimaginable Beauty and Luxury
The Biltmore Estate is located in the Blue Ridge Mountains near Asheville, North Carolina. The home was built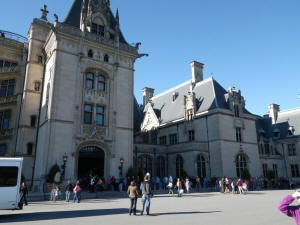 between 1889 and 1895 as a Summer home by George Vanderbilt, one of the wealthiest men in the world at the time. Over the course of six years, hundreds of designers, architects, artisans and craftsmen were employed to complete the 135,000 square foot chateau. The home features 250 rooms, an indoor lighted pool, a two-lane bowling alley, a work-out room, an intercom system, elaborate horse stables, and hundreds of priceless antiques, artworks, and various other furnishings. Visiting the home is a memorable experience (and you will have to remember it, because no interior photography is allowed). The adult admission (as of 01/01/2011) is $75 which seems a bit steep, but Kids nine and under are free. That makes it a decent value for a large family, especially considering it's an all day event.
In addition to the home's lavish interior, the grounds are breathtaking. The landscape was designed by Frederick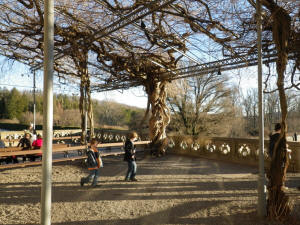 Law Olmsted, the architect of New York's Central Park. Plush gardens and native flora and fauna abound throughout the 8.000 acre estate. Keep in mind, landscaping was completed in the 1890s, so much of the shrubbery is very very old and massive. The "tree trunks" you see in the image to the right is wisteria.
Also on the estate is Antler Hill Village that hosts a winery, shops, and farm (including a petting zoo). Honestly, the farm is the biggest hit with the kids. The animals are very friendly, as is the staff. The old barn at the Biltmore farm has been restored and features a black smith and wood artisan demonstrating their craft. Additionally, the barn is a sort of museum displaying dozens of old farm implements. The highly-rated winery features a tour and tasting session.
The Biltmore Estate caters to active families by providing miles of biking and walking paths. Bikes can be rented
on-site. Additionally, visitors can enjoy exclusive activities such as a Land Rover driving experience or an off-road Segway tour.

If you're considering a stay at Biltmore Estate, there are cottages and an
Inn
(starting around $480 per night for two) on the property. No, you cannot stay in the "big house." We typically stay on Jonathon Creek in our RV in nearby Maggie Valley for about $33 per night.

In summary, the Biltmore Estate is a wonderful place to take the family. The kids will be remarkably entertained, even in the house. Our best advice, however, is to arrive early and plan on staying the entire day. You will not be disappointed.