Adventure Journal - Entry Date: November 2011 (More)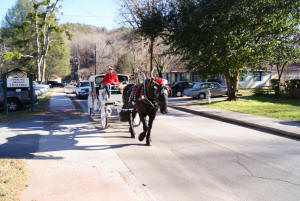 On this particular trip to Helen, we were camping at Vogel State Park. Being Thanksgiving weekend, we knew there would be a lot of Christmas lights and decorations in the streets. Additionally, Unicoi State Park was having their "Festival of Trees" this weekend. We'd hoped to see both, but time would not allow.
We pulled into Helen mid-afternoon, and the Sun was already low in the sky. We made our way down the crowded sidewalks, and visited several shops. The candy shops and toy stores were the most popular with the kids, and there are plenty. There was a street side musician playing a violin, and I sat and listened to that for a while. He was incredible. People were lined up to ride in the holiday adorned horse drawn carriages. Toward one end of the downtown area, a bridge crosses the Chattahoochee River. Here is where the kids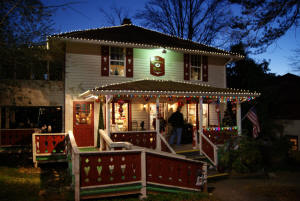 had the most fun. They even caught a crawdad (crayfish) the size of a small lobster.
After visiting a few more shops, we settled into an outdoor café area where a musician performed various classic rock tunes with his band in a box and a guitar. As the sun set, the thousands of Christmas lights began to glow and blink. It was a beautiful sight, but the view (and ability to photograph) was hampered by the constant flow of traffic through town. We considered having our evening meal and Helen, but the crowd made that prospect unappealing. We decided to head back to Vogel and an evening by the campfire.
The appeal of Helen varies in our family. Rebecca loves it, and the kids seem to like it as well. Me? I'd have rather spent the day at Vogel. But that's just me. For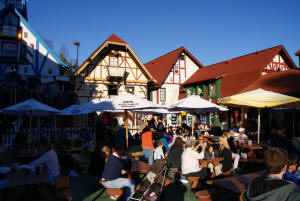 lots more pictures of Helen, plus details of places to go and things to do near Helen, click here.
Nearby destinations include Vogel State Park, Unicoi State Park, Gold n Gem Grubbin', Blairsville, Brasstown Bald, Enota Mountain Retreat, Hiawassee, Georgia Mountain Fairgrounds, Dahlonega, Amicalola Falls State Park, Tallulah Gorge State Park, and much more.