Adventure Journal - Entry Date: December 2011
The Richardson Tribe has been to Maggie Valley several times over the past few years, but never in the winter when Cataloochee Ski Area was open. This Christmas, Santa brought the children gift
certificates for ski school at Cataloochee, so we felt compelled to check it out. When visiting Maggie Valley in the past, we have always stayed at Stonebridge RV, so we booked their best creek-side site for the week leading up to the new year.
When we arrived at Stonebridge RV park (now owned by NASCAR), we were extremely disappointed in the seemingly poor condition of the park. It turns out, it pretty much shuts down for the winter. No laundry, no game room, inner roads blocked, and on this particular holiday week, the office was closed and no one was around. We couldn't even get horseshoes for the awesome looking horseshoe pits. There was a tarp on the office's roof, and there was a busted water pipe at one of the sites where the water ran all week. Rebecca spoke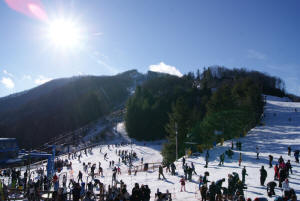 to the manager on the phone once, but he told her "Lady, I'm on vacation this week." He never returned my call. So, here we are, six of us for six days, with tons winter clothes and no laundry room. Fortunately, Rebecca had over-packed, so we managed. In all fairness, campgrounds winterizing and shutting-down for the season is pretty common. However, prior to our visit, we were receiving daily emails advertising how wonderful the place is in the winter. We'll have to reconsider where to stay on our next trip to Maggie Valley.

On our first full day in Maggie Valley, we thought we'd survey the situation at Cataloochee to determine when and where we needed to be the next morning to enroll the kids in ski school. Unfortunately, we were turned away a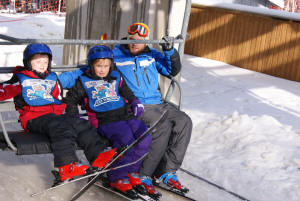 the base of the mountain because the ski area was filled to capacity. We were told to get there very early the next morning, and that's just what we did.

The kids' ski day was on the Friday before New Years Eve. Cataloochee Ski Area was packed with folks on holiday, but that didn't hinder the fun. Even with the crowd of people, everything went off without a hitch. We had all the kids in some exceptional rental boots and skis in no time. Although Santa brought some silly ski hats, we put helmets on the kids. The helmets were to protect the kids from other klutzy skiers more than falls. There were a lot of beginners out there.

After registering the kids for ski school, we left them in the care of the competent ski instructors (as we lurked in the shadows).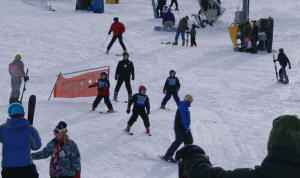 They spent the entire day spoiling the kids with snack breaks and pizza for lunch. By mid-day, our four kids were all working with a single instructor that gave them lots of personal attention. By mid afternoon, the entire Richardson Tribe papooses were loading-up on the lift and skiing down the big hill. They seemed like naturals rarely falling at all. We expected them to be exhausted and sore after so much ski time, but we practically had to drag them away (especially Lainey - see group picture as we were leaving).
For lunch and occasional warm-up breaks, Rebecca and I visited the lodge. This two-story structure is very much utilitarian with a cafeteria-like food service area, a
bar, and lots of tables and seating. The place was packed though, and finding a seat was a challenge. In general, the ski area is quite different from some of the ski resorts Rebecca and I have visited out west. It's a ski area, not a resort. We have to keep reminding ourselves not to compare. After all, flying west, renting a van, and finding affordable housing with four kids in Colorado would probably require a second mortgage. Yup, Cataloochee will do, and do quite nicely thank you.

For a complete write-up and dozens of pictures click here.