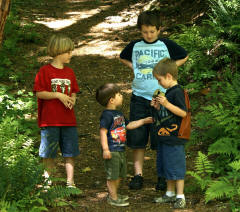 Note: We are reviving this Adventure Journal entry from this time last year because the annual Archaeology Day and Iron Pour at Red Top Mountain State Park is once again upon us. We feel compelled to draw attention to the event because it is one of our most cherished memories. If you are looking for an unusually fun and educational way to spend the weekend in North Georgia, this event is a no-brainer. The Tribe has since visited Red Top Mountain State Park numerous times, and we often camp at McKinney Campground located just around the bend on Lake Allatoona. Archaeology
Day this year falls on, May 7, 2011 10 AM to 8 PM.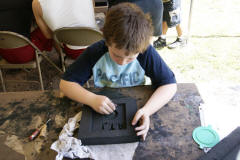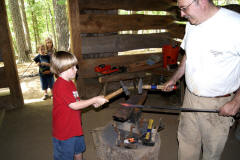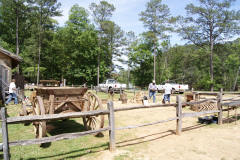 Adventure Journal
Entry Date:
May 2010
Prior to this visit, we had driven through Red Top Mountain State Park a couple of times just to check it out. There are many things that are appealing about the park. It's on Lake Allatoona, which means fishing and water sports. It is easily accessible, just a few minutes off Interstate 75 about 30 minutes North of Atlanta. It's convenient to a good number of restaurants, an exceptional movie theater, and two wonderful museums, the Tellus Science Museum, and the Booth Western Art Museum.

The attraction for making this the weekend to camp at Red Top? Archaeology Day. Saturday was filled with great activities. We started at 10am with a park archaeologist explaining how to recognize sites where artifacts might be found. Then we toured the old iron mine on Red Top via a hay ride wagon pulled by a tractor. The path we took was along an old narrow gauge railroad bed that was used to transport the iron ore. We had a nice view of the lake for some of the ride.

After lunch we got to dig for artifacts. Everyone got to keep an arrowhead, and yes, we know they are not real, but it was still fun to learn how it's done. Each of the kids also got a mold frame ($7 ea.) for carving things to cast in iron (which happened later in the day). That evening after Supper, we headed back over to the lodge to enjoy some Bluegrass music and watch them pour melted iron into our molds. It was a lot to do in a day, so we were tired when we got back to the camper (around 11pm). Click here for the rest of the story and lots more pictures and information about Red Top Mountain and their various events.