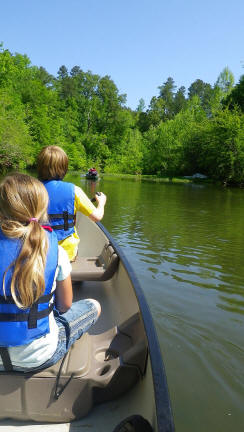 Cedar Creek Park
is cradled by the banks of its namesake in Northwest Georgia near Cave Spring. The clean, cold water winds from the ancient Cherokee farmlands and foothills to the Coosa River, and eventually the Gulf of Mexico. Big Cedar Creek provides multiple opportunities for sport and entertainment. For instance, you can rent a kayak or canoe from the outfitter store, and they will shuttle you upstream for an invigorating 5-mile paddle back down. It's a lot of fun, and the creek is typically very safe and "family friendly." Back at the campground, fishing, swimming, and rock hounding are all pretty good at the creek. It's rocky, so wear water shoes.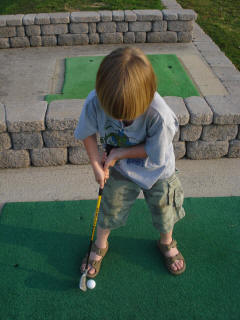 Water, however, is not all this park has to offer. The most obvious non-aquatic feature is the driving range. From any campsite at Cedar Creek, it's just a short walk to the tee-boxes. We like to hit a bucket or two after a good meal, just around sunset.
Additionally, the outfitter/camp store has a variety of sports and game supplies such as horse shoes, volleyball, badminton, and much more for loan. Movies are also available! Simply check-out the items and return them when you're done. Their use is free. These are just a few of the perks of Cedar Creek Park.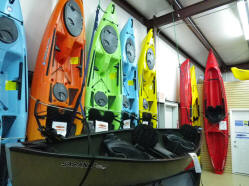 While on the subject of the Cedar Creek outfitter store... WOW! If you are looking for a kayak or canoe, a personal flotation device, or a water-proof cell phone holder, you are in luck. This store is all about fun on the water. It also carries most of the basic RV essentials and a limited number of convenience items. There is, after all, a nice little grocery store is just a couple minutes away, just before THE light in Cave Spring.
Every member of the Richardson Tribe has his or her eyes on the ground regularly, seeking previously overlooked treasures such as semi-precious stones and artifacts. Creek beds in this region can yield very nice specimens of quartz an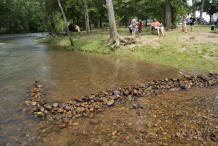 d other crystals in various forms. Also, this is within the gold belt that is known for its rich placer deposits. At this site, I have found small geodes containing nicely formed crystals, cloudy and colorful quartz crystals, and a wide variety of flint and chert nodules. With regards to artifacts, there is no doubt that arrowheads and other ancient stone tools can be found here. Check laws regarding artifact collection, and always ask the property owner's permission to search for artifacts.
The gravel campsites are pretty good, but not perfect. Many of the sites back-up to the creek and provide a nice lawn overlooking the water. The sites are s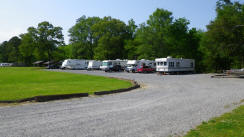 urprisingly level for water-side sites. However, because creek-side real estate is limited, those sites are pretty narrow for the most part. If you are expecting "state park" sites with all their acreage and privacy, you may be disappointed. What this place does have that most state parks don't? Full hookups For the Richardson Tribe, that's a big deal.

Another very positive aspect of Cedar Creek Park is its proximity to so many great places to go and things to do. It's just a stone's throw from
Cave Spring's
,
Rome
, Lake Weiss, Cedartown, the Silver Comet Trail, and much more.