Lake Winnepesaukah is located in Rossville, Georgia near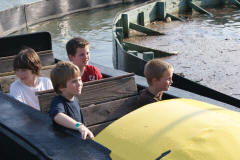 Chattanooga Tennessee. Affectionately known as Lake Winnie by
the locals, this park has entertained multiple Southern
generations since opening to the public in 1927.

During the Winter of 1926-1927, the park's founder built the "Boat Chute," a unique
splash ride that still operates today. People came from Chattanooga, Lookout Mountain, and all over North Georgia to chill in the cool spring water on hot Summer days. The Richardson Tribe enjoys hearing stories from Rebecca's Mom about visiting the park on a date with her father over 60 years ago.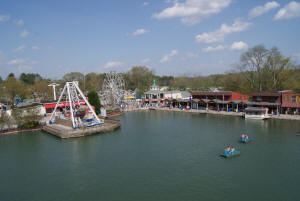 As the years passed, rides were added, improved, expanded, and updated. A mini-scale train track was built around the
park's perimeter, and a nice long antique car track was also added. Eventually, a substantial wooden roller coaster was added. The legendary Cannon-Ball roller coaster is named for the Civil War relics often found in
is area around the turn of the century. Chickamauga, one of the most notorious Civil War battlefields, is located very near here, and many skirmishes took place all around North Georgia and Chattanooga.