Adventure Journal

Entry Date: May 2011
We decided this would be our year to really explore water-related activities. Santa brought two 14' canoes this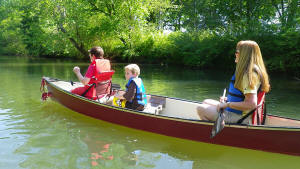 Christmas, and we immediately christened them by paddling with the manatee in Salt Springs, Florida. In fact, we've taken the canoes out numerous times, but always on still water. We figured it was about time to try moving water, so we decided to re-visit Cedar Creek Park on a weekend that the folks at CRBI (Coosa River Basin Initiative) were sponsoring a five-mile paddle trip down the creek. That way, we'd be with people that were familiar with the creek, and might help us along the way. We became acquainted with CRBI through a friend, and have since joined the group. More on them later, let's talk about the paddle first.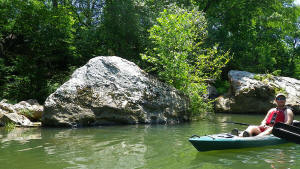 The shuttle was supposed to leave for the drop-off point around 10am
Saturday morning. We'd camped at the park, so pulling ourselves together in time wasn't too difficult. Fortunately, the outfitter store at Cedar Creek had all the special items we hadn't thought of. I mean, do we really need water proof bags? We're not planning on getting wet!
We had a nice size group, filling two shuttle vans with paddlers and trailers with kayaks of various sizes, and two long canoes. James and Debbie, owners of Cedar Creek Park were incredibly helpful and gracious. James went ahead with a chainsaw to clear trees that had fallen across the creek as a result of a tornado that had ripped through the area earlier in the week. Debbie and our friend David hung back with us novices to give us some pointers. We piled into the creek one by one, and headed downstream. Rebecca, Lee Thomas, and John Micah in one canoe, and Heath, Lainey, and I in the other.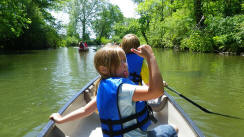 Cedar creek is a pretty mild mannered piece of water, at least that's what I'd been told. I had nothing to compare it with.
Rough water means rocks, Debbie said. Ok, I'll avoid the rough water. Wait, all I see up there is rough water! So, I tucked my tail between my legs, and paddled hard, following the kayak in front of me through the rapid. The bottom of our canoe smacking rocks all the way. Rebecca did the same. Woo hoo, we made it through!
Pretty early in the trip, there was a drop in the creek that required a hard turn right to avoid a rock. I made it through with our
canoe, but Rebecca did not. Her canoe was quickly swamped, and for a brief moment, she couldn't see the kids. Not to worry, everyone had life jackets on, and there were several people right there to help her get the canoe emptied and reloaded. Unfortunately, this spill and talks of another rough spot down the creek made Rebecca nervous the rest of the trip. The funny thing is, it never came. Click here for the rest of the story, including many more pictures and details.