Adventure Journal
Entry Date: October 2010
The Richardson Tribe has just returned from our most recent adventure in the mountains of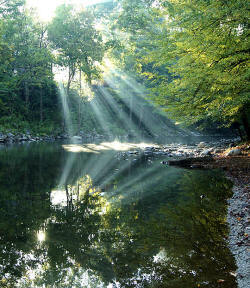 East Tennessee. We camped at the Townsend/Great Smokies KOA on Little River just outside the park for four nights.
While in the area, we visited Dollywood, Pigeon Forge, Gatlinburg, and took a nice drive through the Great Smoky Mountains National Park. Yes, I am afraid we did the "tourist thing" on this trip, but we still enjoyed all the KOA's campground and activities.
We spent Saturday at the campground fishing, playing bingo (the kids loved it!), making tie dye t-shirts and various crafts, playing in Little River, and warming beside a toasty fire. The folks at the KOA in Townsend really know how to keep the kids happy, and the river and scenery keep everyone happy.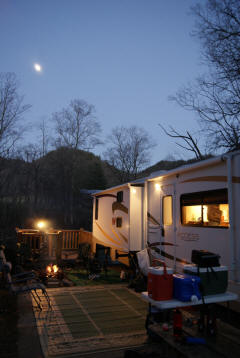 As usual, the night sky was a light show. I actually snapped a few time-lapsed shots this time, and realized there were many stars that I wasn't seeing with just the naked eye. We come here in the Winter between Christmas and New Year, and the sky is even more clear and brilliant at that time of year. For these and other pictures, click here.
John's Soapbox Moment:
I plan to write a series of articles on camping and RV etiquette soon. I may dedicate an entire segment on one neighbor's multiple offenses on this trip.
For instance, one of the few negatives of this park is how narrow the riverside sites are. It's normal for water sites to be narrow, so I can't complain much. However, a courteous camper is careful not to intrude on their neighbor any more than necessary, and to try to make the area on the back-side of their camper as neat as possible (the back-side of one camper is the front- side of someone else's). Our neighbor on this trip had the patio-side of her old Class-A motorhome decorated with lights and FSU (Florida State) flags (and stickers, and pillows, and banners, and more lights, and flags, etc.). Her back-side on the other hand was disgusting (pardon the pun). She threw her sewer hose, water hose, and poser cables on the ground wadded-up in a mess. She stayed inside most of the time, except when laying out on the deck sunbathing and coming around to shake her sewer hose and grunt. She never said a single word to us in four days. I would move her sewer hose away from our picnic table only to find it back, almost on my patio, later. Unbelievable. I personally think other FSU fans need to hunt her down. She's giving your university a bad name.