For 46 years, the Chiaha Festival has been taking place on the banks of the Oostanaula River in Rome, GA. The Richardson Tribe has visited the
Chiaha Festival
a few times, and we love it! It is so different from most of the Arts and Crafts shows we go to. On this particular weekend, we had camping plans at Desoto State Park in Fort Payne, Alabama. We knew we'd have to pack-up early enough on Sunday to swing into Ridge Ferry Park for Chiaha, and that's just what we did.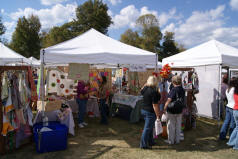 When we first arrived,
David Bell
, an old friend of ours, was performing on the stage. He is as great as ever. The kids were anxious to get into the Scout's activity tent to make some sand-art bottles like they had done the last two years. Rebecca was anxious to see the art, especially the jewelry. Being rockhounds, we always enjoy talking to the folks that make wire-wrap pendants and other types of jewelry from common gemstones.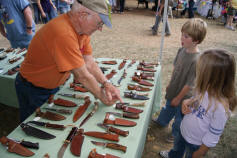 The kids and I spent a little extra time in Mr. Hardy's hand-made knife exhibit. He explained to us how he made the knives completely by hand. Everything from forming the blade to cutting, assembling, and finishing a variety of exotic handles. It was some really cool stuff.
As I wandered through the exhibits, I took a lot of pictures of various art. But then, while I was taking pictures of some LP tanks painted pink and made to look like flying pigs, the "artist" stepped-up, and quite abruptly insisted I not take pictures of his "art" for fear someone might steal the concept. So, I have intentionally NOT shown a picture of a 5' piece of rebar sticking in the ground with a 5 gallon LP tank welded to it, with sheet metal wings, all painted pink. Unfortunately for the "artist", you won't know who he is or what he has to offer. And PLEASE, do not steal the idea of welding wings on an LP gas tank and painting it pink. But, if you do, remember, you didn't see it here.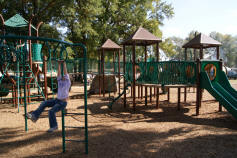 There is always a lot of food at Chiaha, but we couldn't feast too much. There is no ATM, and we were short on cash. We could only afford junk food. We ultimately ended-up at the playground as usual. Ridge Ferry Park has two playgrounds side-by-side. They are both fantastic. There are also some exercise stations with equipment and instructions. If I'd had the energy, I would have pulled the bikes off and gone for a ride too, but after a weekend of Desoto State Park and a few hours at the festival, we were ready to head home.