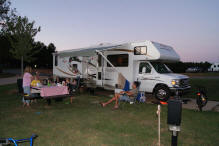 Adventure Journal
Entry Date:
September 2010
This trip was based on Labor Day weekend and a hot air Balloon Festival scheduled at Callaway Gardens in Pine Mountain, Georgia. We camped at Pine Mountain RV, a very nice RV park only 3 miles from Callaway. The plan was to ride bikes, play at the beach, visit the vegetable garden, and participate in the hot-air balloon festivities. We actually did quite a lot more. The day turned into an adventure to remember with good friends, good food, and good clean fun.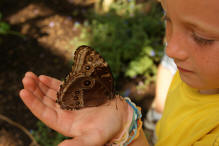 First stop on the bike trail was the Cecil Day Butterfly Center. This impressive butterfly habitat is both entertaining and educational for the kids and grown-ups alike. You can actually see butterflies emerging from their cocoons.
From there, the plan was to ride down to one of several lakes at Callaway and take a ferry across to the bike path on the other side. Unfortunately, we learned the ferry was closed and had to ride along the road for a little while. With all the kids we had riding with us, it was a little scary. Given the choice again, I would have probably gone back up to the butterfly center and taken the much shorter and safer route to the vegetable garden and Robin lake.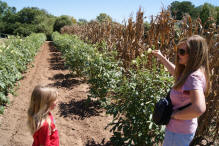 We pushed on until we reached the vegetable garden. There were lots of ornamentals, some muskadine (wild grape) vines bearing fruit, and some okra blooming. The garden is a peaceful place, but not with hungry kids. We decided it was time for lunch.
Just down the hill from the garden is Robin lake and one of the cleanest fresh-water beaches you will ever find. We ate the snacks we'd packed and the kids hit the water. There was a "knee boarding" show happening, so we got to see some impressive tricks. Callaway gardens is known for waterskiing.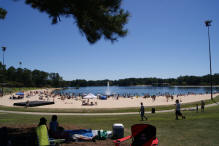 After a while, we made our way around to the opposite side of the lake where the festivities were happening. We played miniature golf, did the bungee swing ride, then went to watch the finale of the balloon festival, the launching. Turns out, the balloons were tethered, so they would only let them rise a hundred or so feet in the air, then pull them back down, giving rides to the patrons.
We eventually went back to the campground. From our vantage point there, it looked like they did eventually release some of the balloons, although we only saw two.

During our stay at Pine Mountain RV, we visited the Wild Animal Safari Park just a couple miles down the road. This was actually our third visit, but our friends' first. It is such a blast to see these animals up close and personal. I'll publish a write-up about the park soon.
I
n summary, it was a very good weekend. There are many things to do at Callaway, but I should point out that it can be a bit pricey, especially for a family of six. Our cost to enter the park was around $100, a bit more expensive than usual because of the balloon festival. If you are looking for a day of bike riding, fishing, and swimming, a state park can provide those features for a $5 parking fee.
Speaking of state parks, it should be mentioned that FD Roosevelt State Park and Roosevelt's Little White House are also located very near Callaway Gardens and Pine Mountain RV.
For more pictures and journals from other trips to Callaway Gardens (especially Spring!), visit http://www.pbandjadventures.com/