Overview - The Tribe's Favorite Park

Fort Mountain State Park is located near Chatsworth, Georgia on the Southwestern edge of the Cohutta Wilderness. This park is the Richardson Tribe's #1 favorite place to visit and camp, Why? Where do I start?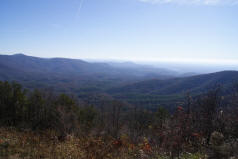 1- Accessible- Fort Mountain (Cohutta to the Native Americans) is perhaps the most easily accessed mountain in North Georgia. It's about 1.5 hours from Atlanta and just a little over an hour from Chattanooga. All but the last eight miles is flat freeway and highway travel. The final segment is curvy, steep, and scenic. There are several picturesque pull-offs that should be observed on the way.

As you wind your way up the mountain, roll your windows down so you can enjoy the gradual temperature and humidity change. Typically, from the base of the mountain to the park, there can be as much as a 10-12 degree change. The dramatic temperature change can affect the weather on Fort Mountain, often making it totally different from the mountain's base (as in rain, snow, or lack thereof).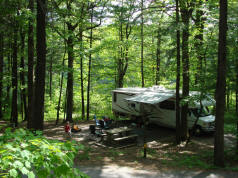 2- Campgrounds- Georgia's standards for its state parks are high, especially when it comes to campgrounds. Fort Mountain State Park has two campgrounds. One is located adjacent the lake, the other is just across the road. The sites are level, extremely large, clean, and furnished with fire ring/grill units and sturdy picnic tables. If we can't get a site on the lake, we usually go over to campground 2 and use the very large pull-through sites. The ONLY negative I can think of is the lack of full hookup (as in sewer), but that's pretty standard for state park (with very few exceptions). They have cable there, but channels are few and picture quality is sub-par. It doesn't matter, you should be outside enjoying the fresh clean air anyway.
3- Amenities- Fort Mountain State Park seems to have all the right stuff. There is a lake with a very nice (sometimes crowded) beach, row boats, pedal boats, and some good fishing. Near the beach's snack bar and picnic shelters is a miniature golf course and a very nice playground. The park features 14 miles of hiking and 27 miles of mountain biking within the park. and the Cohutta Wilderness is directly accessible as is the Pinhoti Trail making hiking and biking almost unlimited. For a fee, you can rent a horse at Fort Mountain Stables (a private business).
4- Wildlife - You can find just about every type of animal native to this part of the country at Fort Mountain including bear, turkey, bobcat, and even (according to some) cougar.

5- History, Mystery, and Legend- Fort Mountain State Park is the home of much history, mystery, and legend. For example:

- The wall- Located at Fort Mountain's peak are the remains of an 855 ft wall. Though there are many speculations as to its origins and its purpose, it is unlikely it was built as a fortification. While it would help to fend-off enemy attacks, there is no water source. All the enemy would have to do is sit and wait. It's more likely the wall was somehow a part of a ceremonial ground, which is consistent with other sites such as Old Stone Fort State Park in Manchester Tennessee. Some speculated the wall was built by Desoto's men, and some think it was built by Welsh Prince Madoc's men. The fact is, no one knows for sure, although the estimate the wall's construction to be around 500ad.

- Cherokee Gold - There are legends related to a secret Cheroke gold mine on "Cohutta", the Native American word for the mountain. Stories about the local Cherokee wearing gold jewelry, and settlers trying to find the source have been handed down for years. One has to consider the wealth of some of the local Cherokee such as Joseph Vann. Vann's father accumulated massive wealth while living near the foot of the mountain. They say his father made the money from taverns and various other enterprises, but when his son was forced to move from this area to Tennessee, he deposited over $200,000 worth of gold in a bank. That's $200,000 in the 1830s, think about it.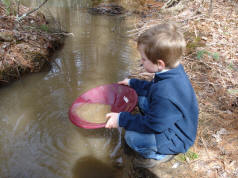 - Cohutta Gold Mine - Apparently, placer gold had been successfully panned from the creeks on Fort Mountain for many years before the Cohutta Mine opened around 1905. According to the United States Geological Survey, a large vein of gold had been discovered and was being worked when they visited in 1906. In fact, the owners had ordered additional equipment and were stepping-up production. Mysteriously, four years later when the same surveyors visited the site, the mine was shut-down. In 1926 the property was purchased by wealthy businessman (and later Atlanta Mayor) Ivan Allen, then donated to the state of Georgia as a state park. So, the mystery of the Cohutta Mine exists today. Where was it? Why was it shut down? Is there still gold to be panned? I believe there is.