A Fun-Filled Festival in a Charming Southern Town.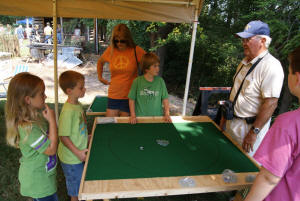 The first morning of our long Labor Day weekend trip was a sunny Saturday. The top was off the Jeep, and the air was a very comfortable temperature, a stark contrast to the stifling summer heat to which we'd grown accustomed. We swung into Vogel State Park on the way to Blairsville just to see what was happening. We have stayed at Vogel just one time, and really loved it. They have a lake and beach, and lots of beautiful campsites. We have reservations for a late fall visit, and really can't wait.
When we arrived at the Mountain Heritage Festival, I think we came in through the back door. I'm glad we did. That is where the old log cabin and farm animals are. The kids learned how to play marbles, and thoroughly enjoyed visiting with the 4H representatives and seeing/petting their animals. I think we may have a goat or two in our future.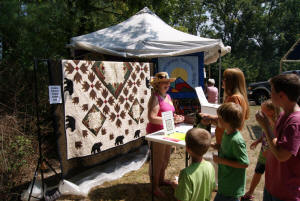 The festival is held at the site of Blairsville's Mountain Life Museum, just south of the town square. We really enjoyed walking through the extensive exhibits of art and treasures. There was a vast variety of quilts, wood work, yard art, and yummy treats scattered across the museum's lawn. Had we more money, we certainly would have left with a load of goodies.
While at the festival, we enjoyed the musical interpretations of several folk music groups, and one especially talented young man on guitar. The music was the icing on the cake because it seemed to complete the experience. The fragrance of funnel cake, boiled peanuts, and scented candles mixed with hay and farm animals induces a peaceful feeling.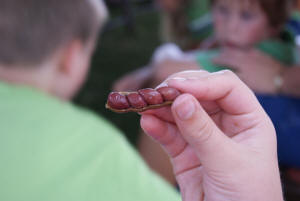 After visiting every booth at the festival, and sitting through many musical performances, we decided to walk around town just a little. There was supposed to be an antique car show here today, but we were apparently a few hours early. We found a Hole in the Wall, and discovered it was a popular deli. We also walked through a very old 5 and 10 cent store that reminded Rebecca and me of the old dime store from our childhood.
We enjoyed a late picnic lunch on the lawn, then headed back across the mountain for our
campsite
. We made a little side-trip to Helton Creek Falls for a little site-seeing and water play. We sure do love this area, but have to constantly remind ourselves about the presence of bears in the area. Remember not to leave food in your vehicle, especially if it's got a soft top, or no top at all!
For more details and lots of pictures of Blairsville and the Mountain Heritage festival,
click here
!