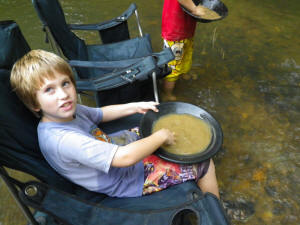 F
or this long Labor Day weekend holiday, we decided to re-visit Gold n Gem Grubbin' in Cleveland, Georgia for a rockhounding
adventure. In addition to providing an awesome place to pan for gold, grub for gems, and generally rockhound, the campground provides a great home-base while exploring this part of Georgia. Some friends joined us on this trip, so the kids had friends to play with at the campground. And play they did. We were so happy they were getting exercise.
Our first full day was a Saturday, and we decided to spend it exploring the area. Blairsville was hosting a Mountain Heritage Festival, so that was our first destination. We had a hankerin' for some funnel cake, home-made ice cream, folk music, and farm animals. We swung into
Vogel State Park
on the way. We've stayed at Vogel just once, but we loved it. We're coming back Thanksgiving!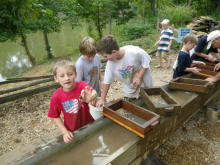 The festival in Blairsville was a lot of fun, and we saw many works of art, and lots of folks working at it. All our expectations were filled before having a picnic l
unch and heading for Helton Creek Falls to play in the water.