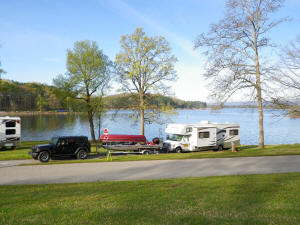 Chester Frost is a beautiful municipal park located near Chattanooga on Lake Chickamauga and the Tennessee River. The
greater portion of the park cradles Dallas Bay, a great little fishing hole with direct deep water access to the Tennessee River. Chester Frost Park features picnic shelters, an enormous beach, awesome playgrounds, incredible fishing, beautiful campgrounds, boat ramps (with adequate parking for boats and trailers), and unbeatable sunsets.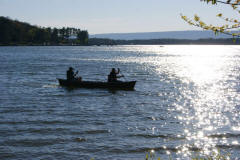 Sunsets. That's a subject in itself. I have to apologize in advance for the seemingly disproportionate number sunset photos on Chester Frost Park's PB&J page. Regardless where the day takes us, it's usually concluded with the sunset from Dallas Island. Every evening is like a brand new light show.
Chester Frost Park is very near Chattanooga and its many attractions. Chattanooga lies at the base of Lookout Mountain on the mighty Tennessee River. Lookout Mountain features numerous tourist attractions that are just cool enough to be "must sees". The Incline Railway, Ruby Falls, and Rock City are classic and historic tourist attractions, all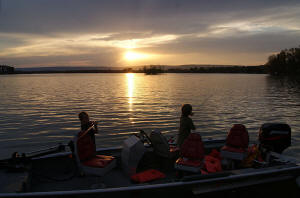 located on the mountain. For a bit more natural experience, down the ridge is the Lula Lake Land Trust, and at the Chattanooga Nature Center is just up the ridge on Lookout Creek.
The city of Chattanooga also has many features that should be seen. The Chattanooga Choo Choo, of course, is a historical old train station with a hotel, restaurant, and sleeper cars. Just down the road is Ross's Landing, name for Cherokee Chief John Ross. Ross's landing hosts many events, and most are free. The Tennessee Aquarium is located at Ross' landing as are River boat and "Duck" rides. Museums, restaurants, theaters, parks, the river, a great zoo, outdoor concerts, and an awesome bike path also make this part of Chattanooga very very nice.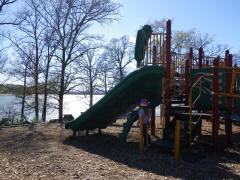 Also near Chattanooga is one of our favorite old amusement parks, Lake Winnepesaukah, AKA "Lake Winnie." This old park, founded in 1926, has a rich history. For people in the Tennessee Valley region, this is the place you take your kids. It's the place your parents took you. It's the place your grand parents took your parents. The park does not rely on tradition to bring people back though. They have managed to keep the fun atmosphere while honoring the tradition of their past.
So, why all this about Chattanooga on the Chester Frost page? Well, if you want to visit Chattanooga, and you want to stay in an RV, Chester Frost is the place. Before you book anywhere else, PLEASE send a message on the Feedback page. I'll tell you where NOT to stay in

Chattanooga. More...