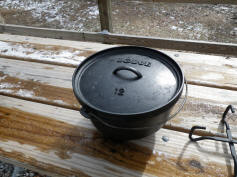 Everyone knows the Richardson Tribe enjoys outdoor activities,
especially those associated with camping. One of the luxuries of camping in an RV is a fully functional kitchen. However, an RV's kitchen is inside, and somehow, cooking with a microwave just doesn't produce a real "outdoorsy" experience. Sure, we appreciate the camper's indoor kitchen, but every once in a while, it's fun to do it the "old fashioned" way.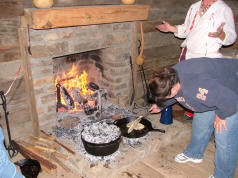 We initially became acquainted with this type of cooking in 2008 while attending "Frontier Days", an annual October event held at New Echota Historic Site in Calhoun, Georgia. For the Cherokee, this village was the brief capitol of their sovereign nation. New Echota was also home of the Phoenix, the only newspaper published in
the Cherokee Nation's own language using a type of alphabet developed by Sequoyah, an illiterate (in English) but brilliant
native.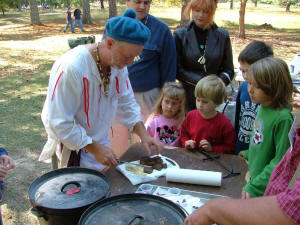 N
ew Echota's Frontier Days event is great for the entire family. Lots of hands-on experiences are provided throughout the historical site that keep kids of all ages entertained.
One of the cabins featured a Native American game that required spear
throwing. There was also archery and tomahawk
target practice at the same cabin. The cabin also had a wonderful fragrance of baked apples and cinnamon seeping through the cracks in the walls. On the hearth of the cabin's fireplace were several Dutch ovens, each containing some sort of culinary masterpiece. The friendly folks demonstrating the Dutch ovens let us sample the food while explaining how the process works. Rebecca was especially interested and asked lots of questions about what kind of cookware and accessories she needed to get started. more