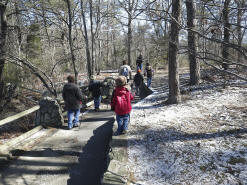 Adventure Journal -

Entry Date: January 2011


The first morning of this adventure to Cloudland Canyon State Park welcomed us with a chilly 20-degree
air t
emperature, and a frozen water source. I thought
I'd conquered the
frozen-hose problem with heated tape (cable), but this time, t
he spigot was the victim. A minute or two with the blow-dryer solved the problem.
After the kids indulged in a couple of lazy hours in the warm camper, everyone finally emerged with layers of clothing: long-johns, jeans, sweats, gloves, trapper hats, and walking sticks. We were prepared!
The air was cool, but we were blessed with warm sunshine. We first wanted to show the kids the canyon from above. It had been a long time since our last visit, so the twins didn't remember it very well. We walked
a short distance North from the campground to the "Point", an
overlook that provides an awe-inspiring view of Sitton's Gulch, Daniel's
Creek, and
many miles Northward to Tennessee. Note: Parents and owners of small pets BEWARE! There are a couple of places at this overlook where it would be very easy to fall. Keep an eye on young ones at all times.
Next, we hiked down the massive steel
and wooden staircases leading into the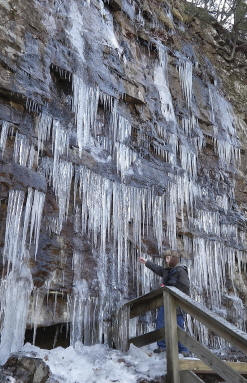 Southeastern end of the canyon. The descent was easy and safe, even with fresh snow on the surface of the boards. The steel steps are slip-free, and the
boardwalks
were easily navigable. The icicles clinging to the cliffs resembled glass organ pipes on cold gray walls of stone. Very surreal. I took dozens of pictures on the "trip" down (pardon the pun). The sights were something Rebecca and I will remember forever, and I think the kids will too.
The scene at the first set of waterfalls was magical. The mist from the crashing water
had
crystallized on everything surrounding the pool at the base. These images don't begin to capture the sunlight and the colors of the canyon. The rocks, the trees, the logs, everything had a sheet of ice. The kids would have been happy to stay there playing and exploring all day. But it was cold in the shadows of the canyon, and we had more to see. From here, we doubled back to the point to go right to exit, or to go left to seet the second set of falls. Decision time...
A
fter staring down the seemingly endless sets of stairways descending to the second waterfall, some of the Tribe decided to
take a rest before heading out of the canyon. Others, myself included, decided to bite the bullet and trek the additional distance to see the sites at the bottom. I have mixed emotions about the choice I made. It was just 3/10 of a mile, but it was mostly steps. Whew! Climbing out was going to be a job. I photographed the second waterfall as well as the footbridge crossing Daniel's creek before heading out of the canyon. More pictures and the full story...