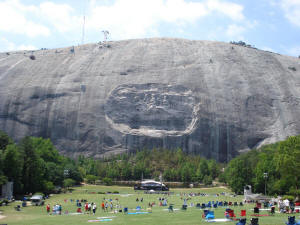 Stone Mountain, advertised as the World's largest piece of exposed granite, i
s perhaps Georgia's most recognizable
landmark. If you are visiting Georgia, seeing Stone Mountain is pretty much a requirement. The rock dome extends 825 feet above the the surrounding landscape, and 9 miles beneath. The vertical face of the mountain features the largest bas-relief sculpture in the World. The sculpture is a memorial of three key Confederate figures: Stonewall Jackson, Robert E. Lee, and Jefferson Davis. Mystery and controversy shroud the mountain's jaded history and its' sculpture, but that's
something you can research on your own. One note of interest is that when the first European settlers came, they discovered a mysterious wall encompassing the crown of the mountain, similar to the one found at Fort Mountain. The wall has long
s
ince been removed, rocks pushed over the edge or carried away by souvenir seekers and vandals.
T
h
e park is located less than
20 miles East of downtown Atlanta off Highway 7
8. Once you pay the $10.00 per car fee for entry to the 3,200 acre park, you will begin to discover a wide variety of t
hings to do. There is a "theme park" area with shops, a miniature golf course, 4D theater, treetop adventure course, and various o
ther seasonal attractions and events. There are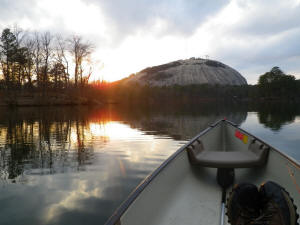 additional
fees for these attractions, and it can get a bit
expensive.
Additional park amenities include a gondola that lifts visitors to the top of the mountain (for a fee) to enjoy the spectacular view, including Atlanta's skyline. There is a open-air passenger train that travels around the base of the mountain, stopping for a short show and a drop-off site for hikers (the show is seasonal and train may or may not be running and/or stopping at the hiker drop-off. Call the park for information). There is a
Robert Trent Jones designed golf course, a lake
for fishing, canoeing, and kayaking, a riverboat ride, and an amphibious vehicle rides called "the Ducks".
There is also an antique car museum and an Antebellum plantation with a petting zoo. All these attractions are subject to seasonal (and somewhat random) closures,
so make sure to call ahead (don't rely on the website).
A trademark of Stone Mountain is a laser light show that is projected on the sculpture on certain evenings. The music and lights are a real treat, and the show is typically followed by fireworks.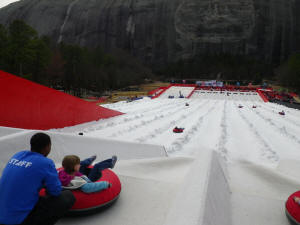 Every Winter, the large sloped lawn at the base of the mountain is converted
into a massive snow hill for tubing and play
.
Known as Snow Mountain, this feature offers us snow-deprived Southerners the chance to enjoy a Winter wonderland with an easy exit. Yes, we like snow, but just in small doses.
Finally, the park hosts what Woodall's calls Georgia's number 1 campground. This is where *my review takes a bit of a diversion from Woodall's findings. Certainly the campground is in an ideal and beautiful
setting, and it should be a fa
ntastic campground, but it's not. It's like a classic car with a custom paintjob, but with tattered seats and a smoking engine. It needs an
overhaul! There are but a handful of sites I would consider "good", and none I would consider excellent, or even above average. For more, see my accounts and pictures of camping visits since 2007 below.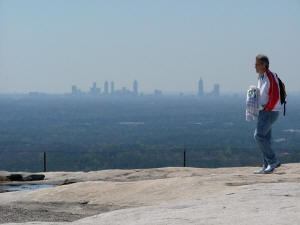 In summary, our feelings toward Stone Mountain park are certainly mixed. We love Stone Mountain! We will return! But we are always frustrated about random attraction closures and poorly maintained campground facilities. If you are a tourist wanting to visit Georgia, this is a must-see destination. In fact, it could be a law. I'll have to look into that.



For lots more pictures, accounts of past visits, and a more thorough review of Stone Mountain,

click here

.