But then, I never was a very good listener...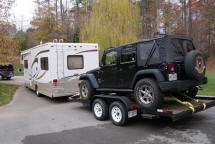 November 25 - The Tribe ate Thanksgiving lunch with the extended Richardson family, then jumped in the packed camper and headed for
Wears Valley, Tennessee. Typically, when we visit this area, we stay at the KOA campground in Townsend. It's one of the nicest campgrounds in the area, but it's a bit pricey (we paid almost $70 this Summer for river-side sites), and if you don't plan to use their many valuable amenities, it's hard to justify.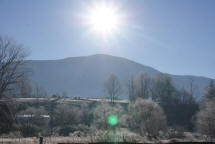 On this particular trip, our plan was to spend two full days at Dollywood, and very little time at the campground. I spent several hours researching campgrounds in the area, even over in Pigeon Forge and Sevierville. I found a few questionable prospects, but most were booked-up through the holiday weekend. Then, I discovered Cove Creek RV Resorts and Rentals, a destination that appeared to be an ideal place to camp in Wears Valley between Townsend and Pigeon Forge. What's more, the rate was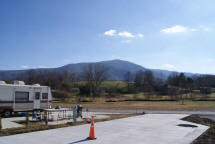 an acceptable $33.00. It sounded great!
Here is what their
website said
:
(the words are theirs, the pictures are mine)
"
At Cove Creek RV Resort choose sites offering personal outdoor gazebos with l
ounging areas and outdoor fireplaces or
perhaps you would prefer to be creek-side so the lull of the babbling waters can
soothe you to sleep at night. Whichever you choose Cove Creek RV Resort will not disappoint. We offer a first-class clubhouse,
bathhouse, workout facilities, onsite laundry facilities, a game room, an outdoor pool and outdoor

recreation, a conference
center as well as an onsite fishing pond.

We are working to make the campground better, please bear with us as we are 75% complete." Please enjoy our reduced summer rates as compensation for any minor disruption."

Ok, the key here is the last sentence of the above quote. It gives you the
impression that the campground is undergoing
some "improvements", and it's almost done. Further investigation made it appear the description was published in early Summer (June), so one might assume, as I did, this nice luxury campground is probably nearing completion by November. The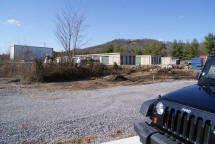 pictures were great, but there were suspiciously very few pictures to view. Finally, I cast all caution aside and booked three consecutive nights. Shame on me.

When we arrived at Cove Creek RV, the office was dark, but our site was identified on
a map
taped to the inside of the clubhouse's
front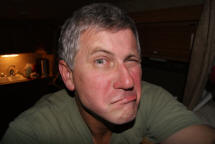 door.
As we pulled through th
e park on
the way to our site, I began to feel as though
I'd been a little misled.
I was getting peeved. The first sign
we saw said something to the effect of "Buy your own RV Site starting at $69,000"
.
I
asked myself, "when is $69,000 too much to pay for a concrete pad in a pasture?". The sites are narrow, and nothing was really finished. Our site was at the end of a row. It faced a gravel drive, some unfinished pads, some exposed sewer pipes, a dumpster, construction equipment, and a storage warehouse behind an old chain-link fence. The pictures tell the story.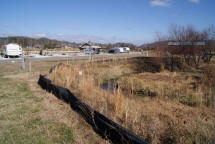 In all fairness, that last sentence on their home page does provide a bit of a disclaimer
that
warns of the campground's condition, and there is a nice looking pool and exercise room with four pieces of equipment, and Wears Valley is beautiful, and it is convenient to Pigeon Forge, and it was just $33 a night, and we really didn't spend anytime there during the day, and the site was pretty level, so I'll give them a break. I'd have probably stayed here in the same situation had I
known the truth in advance, but I'm most offended by the website's misrepresentation of the camping facility and its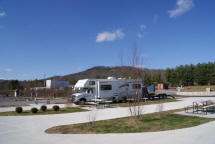 surroundings.


On the other hand, I think that someday this will be a very nice "RV Park". I doubt you'll be able to rent a site for $33, and maybe someday in the far far distant future, their sites may also be worth $69,000, but I'm not holding my breath.

I began reviewing destinations for this very reason, so you won't have to make the same mistakes I make. You won't find Cove Creek Luxury RV Resort on our Places to Go page, but I still felt like I owed them a little write-up.