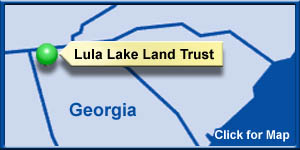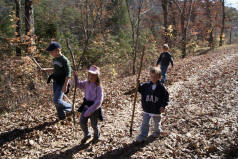 The

Lula Lake Land Trust
is a privately owned 4,000 acre preserve on Lookout Mountain in Northwest Georgia. Lookout Mountain is a massive, cave riddled, and heavily forested limestone ridge that stretches from North Alabama to Tennessee. Lula Lake is very near the town of Lookout Mountain, Georgia and a good many entertaining attractions typically associated with Chattanooga, Tennessee.

Lula Lake Land Trust has a lot to offer a family with energetic children. Its natural beauty and outdoor activities such as hiking, mountain biking, wildlife watching, and fossil hunting make this a memorable destination. Oddly, the land is open to the public only on the first and last Saturdays of each month. Just show-up, sign-in, and enjoy. If you want to make arrangements for a group field trip, you can contact the land manager to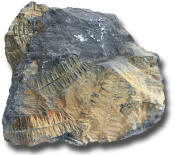 request special arrangements.

The property was the home to the Durham coal mine around the turn of the 20th century, and the mine's tailings have tons of fern fossils. The part of the property that
contains the mine tailings is not typically open to the public, but the Land Manager told us arrangements could be made for small groups to visit the site.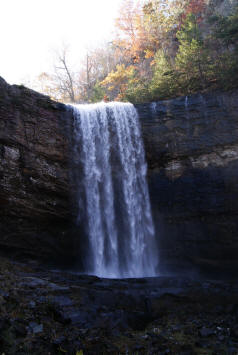 There are numerous trails covering the property, and a new trail connecting the Lula Lake property to Cloudland Canyon State Park is being cleared for hiking, mountain biking, and horseback riding. The main trail we walked on is an old rail bed for the train that carried coal off the property. It's a really interesting walk along Rock Creek. Lula Lake itself is little more than a pool in the creek that accumulates just before a small waterfall, but the view from the old renovated Iron bridge is quite nice. Further down the trail is another larger waterfall, and the climb down to the base and back out makes for some pretty good exercise.
While in the area, consider visiting the tourist attractions like Ruby Falls, Rock City, and the Inclined Railway. All these attractions overlook Chattanooga and its awesome Tennessee Aquarium, Tennessee River, Chattanooga Choo Choo, a really
neat little

zoo
, and lots more.

For more pictures and information, visit the PB&J Adventures website.

Fern photo credit- BigstockPhoto.com