Eventually
(
visit our Dollywood page
)
The day after the extended Richardson family's Thanksgiving feast, the Tribe headed out for an early lunch at
No Way Jose's
Mexican restaurant in Pigeon
Forge, then on to Dollywood. It had rained all morning, and we were hopeful that the crowds might be a little smaller. When we arrived, the crowds were just as we'd hoped, thin. The weather was pretty chilly, but we were prepared with the toasty trapper hats we bought here last Winter, one of our best investments. This was the first of our two days at Dollywood during the Thanksgiving holidays.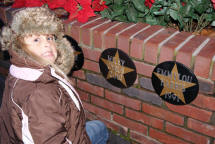 Another good investment from last Winter was the purchase of Dollywood Season Passes. As far as value goes, a single day at Dollywood is not necessarily a good value, especially with four kids (and cheap like me). However, it's pretty inexpensive to upgrade it to a season pass which gets everyone in for free for the next 12 months (or from before Christmas through Christmas of the following year). If you spend a few bucks extra, you can upgrade one of those passes to a Gold Pass. Gold Pass holders pay no parking ($10), and receive a 10% discount on everything in the park.

Now, if you've never been to Dollywood, wipe those images of redneck midway carneys and sticky sidewalks from your mind. A nicer place you'll never visit. It's clean, the rides are top-notch and safe, and the people that work there are very friendly and down-to-Earth. For kids, the rides, games, and sights are awesome. For grown-ups, it's better than Disney, especially this time of year when millions of Christmas lights sparkle all over the park and a variety of seasonal musicals and live bands also contribute to the holiday spirit.

For many more pictures and details about this trip and other trips to Dollywood click here.