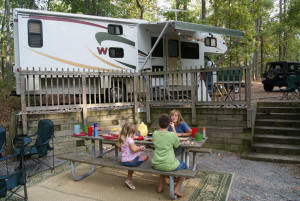 Traveling with Seven
Sometimes, as we are rolling down the road, people will stare and point. Why? Maybe it's because we look a little like the Beverly Hillbillies moving across the country with all our worldly possessions strapped to the truck. The Richardson Tribe consists of two parents and four children. Additionally, Rebecca's mother (aka Mother Goose), also lives and travels with us. So, altogether, we are seven, and that presents some issues when it comes to travel. And yes, we might look a little odd, but we're prepared.

Homer - Our First RV
When we first started RV camping, the kids were very small. We started with a tiny "Class C" motorhome we named Homer. Homer had one chair, a dinette, a cab over bunk, and a small bed. Initially, the small camper was ok. We spent most of the time outside, and retired to the camper when it was bedtime. As the children grew, the tiny space became too cramped for comfortable travel and sleeping. We pondered the need to upgrade. We loved Homer, but we needed more beds, more seating, and more living space.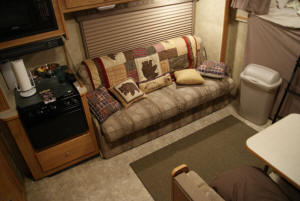 Upgrading - A Tough Decision
Deciding what would replace our beloved Homer was a very difficult task. We considered all the possibilities, including trailers and 5th wheel units. No doubt, either of these options were attractive from the living space versus cost standpoint, but there were issues. For example, a trailer requires a tow vehicle large enough to pull it, so a truck or large SUV is required. Additionally, we need seating for seven, and that really limits the options to a large expensive SUV such as a Suburban.. A 5th wheel unit requires a pickup truck, but our seating requirements eliminated that option immediately. Safety and comfort while traveling are most important.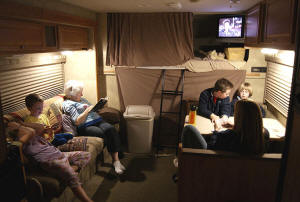 Other factors influenced our choice of RV such as the convenience of a restroom and kitchen while traveling. I estimate that by not stopping to use the restroom, we save a considerable amount of time and money. Every time we use a restroom at a gas station, we feel obliged to buy a snack. With seven hungry people, that can add up.

So, after all considerations were made, we began shopping for a new motorhome. We had seen a Winnebago Access 31J at a Stone Mountain RV show in 2008, and it seemed perfect. Unfortunately, the price was well over our planned budget. I searched every resource I knew. RV Trader, Ebay, Craigslist, and various other online and print media. We needed something that would easily sleep 7 or more people comfortably, and was capable of pulling a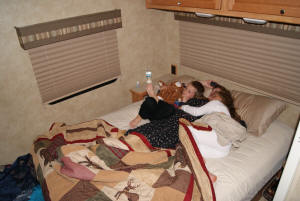 tow vehicle. It was a frustrating search. Then one day, I stumbled across an ad for the exact model we'd wished for. A dealer had gone out of business, and Winnebago had repossessed an Access 31J with bunks in the slide. It was perfect, and the price was incredible. I drove to Colerain RV in Cincinnati, Ohio immediately to trade our beloved Homer in for a brand-new Homer II. We were sad to see our first Homer go, but we were ready for a good night's sleep.
Meet Homer II - Winnebago Access 31J
Homer II is a "class c" motorhome with two slide-outs on a Ford F3500 chassis with a V10 powerplant. There is a queen size bed over the cab, a queen size bed in the master, two twin bunks in a slide, a sofa that folds into a bed, and a dinette that folds into a bed.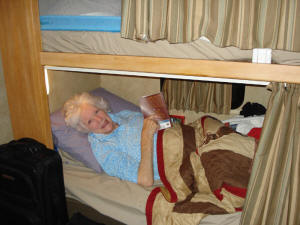 Technically, it will sleep 10, so we are quite comfortable with 7. The furnishings are more plush than our old RV, but still not overly luxurious. It's a very functional layout with warm colors and a cozy feel. We have two flat-screen TV's and DVD player that can be viewed on both screens.
The main living area is in a slide out, and it has a sofa, dinette, and a relatively compact kitchen. It suits our needs, but we could always use more pantry space and a larger fridge. The cab-over bunk is a very spacious. Our oldest son has that bed to himself usually. Sometimes, our youngest boy will join him when "Mother Goose" is occupying his bunk. The sofa and dinette can both be converted to beds, but we never fold the table down. There are two bunks in the hallway between the main living area and the master, and across the hall from the sizeable restroom. That entire back right half of the camper, including the bunks, slides out for added floor space and access to storage. The master bedroom features a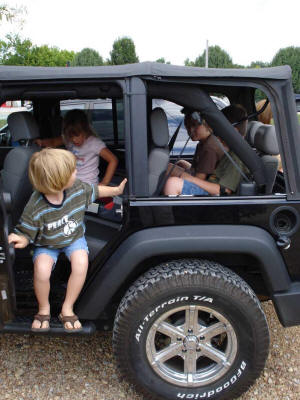 queen bed, lots of closet space, and another flat screen TV. Some living space and storage is sacrificed by having the bunks, but adequate sleeping space is a necessity.
The size and weight of the Winnebago Access pushes the 3500 chassis to its limits. It is easy to drive, however, and everything works well. Homer II averages about 10mpg on the highway when not towing a vehicle. When we pull our Jeep, it averages about 7mpg. Yes, it hurts when fuel prices are high, but it's still cheaper than flying. Remember, we're carrying seven people and a lot of supplies and toys. I also want to mention that the V10 power plant is very reliable and does a great job pulling.
Our Toad - A Jeep Named "Willie B"
If you are not familiar with the term "toad," that's what motorhome owners call the vehicle they pull behind them. Our "toad" is a 2009 Jeep Wrangler Unlimited X. The Jeep Wrangler is the only four-door convertible available, and I like convertibles. I have always wanted a Jeep, and when the four door wrangler came out, I was excited. Unfortunately, I soon learned the Wrangler accommodates but five passengers. Fortunately, I found LittleSeats.com, a company that manufactures third-row seats for Jeeps and other SUVs. It wasn't a cheap addition, but was well worth the investment. I made the mistake of ordering the seat with lap belts only. Rebecca wouldn't hear of it, so I quickly added four point off-road safety harnesses. The safety harnesses may be overkill, but still cheaper than the shoulder strap option from LittleSeats.com.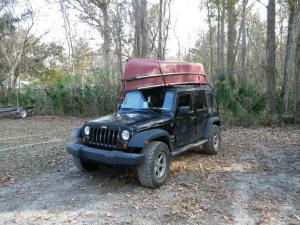 The Toys - What About The Toys
When we take our bikes on adventures, I can fit all six on the back of Willie B using a combination of a bike rack and flat rack, both attached to the receiver hitch with a dual adapter. We also travel with two Canoes occasionally. This presented two problems. First, how to carry two 15' canoes, and second, how to load them by myself. I usually have help, but I can't rely on that. I solved the problem of carrying the canoes by removing the handles from one and nesting them together. Then I installed Warrior Products Safari Watercraft Rack which supports the canoes at the front an rear of the cab.. To make loading easier, I ordered a Cabela's Canoe Loader. It makes loading much easier, and provides additional support at the rear of the vehicle. With regards to the Warrior Products watercraft rack, it's really not very strong and it took some major modifications to install. Unless they have since made some design changes, I cannot endorse it. The Cabela's Canoe Loader, however, performs exactly as advertised.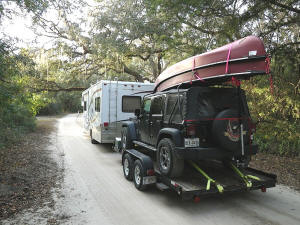 Pulling the Toad - On The Road
We have tried a couple of methods for pulling the Jeep. I considered flat-towing Willie B, but I wasn't interested in adding a brake apparatus to the Jeep. I initially used a tow dolly, and that worked fine, but limited the places we could go. It's virtually impossible to back a vehicle on a tow dolly, and more than once, that disability cost me valuable time and unnecessary work. We now use a trailer to haul our toad. It can easily be backed, and it provides some additional storage while we're on the road. The only negative of the trailer is finding a place to store it when we have reached our destination. Sometimes, a long pull-through will accommodate the entire 50' rig, but I prefer back-in sites. Typically, the host campground will provide a parking spot for us.
Summary
So, there you have it. The Richardson Tribe may look like the Beverly Hillbillies traveling down the road, but we're comfortable and prepared. Wherever we go, we have what we need. Everyone has place to ride, sit, and sleep. We are pleased with the Winnebago and Jeep, and plan to keep them both for some time to come.