PB&J Adventure Journal - October, 2011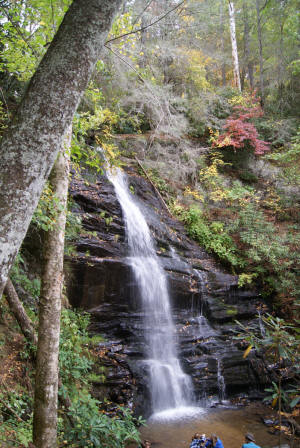 One of several waterfalls at Enota Mountain Retreat.
Autumn in the north Georgia mountains is a colorful event, so the Tribe tries to visit the region as much as possible this time of year. The Fall leaves combined with the crisp cool air makes for great camping and hiking. Additionally, numerous seasonal festivals occur in the area, including the Georgia Mountain Fall Festival held annually at the legendary Georgia Mountain Fairgrounds in Hiawassee. This awesome event is what brought us back to Enota.

We camped at Enota in 2008 (
see PB&J Adventure Journal entry
) when it was bitterly cold. Enota Mountain Retreat is very near Brasstown Bald, the highest peak in the state. The weather up there is different than anywhere else in Georgia, and on that visit in 2008, we awoke to nine degree temperatures and frozen lines our first morning there. Although it was miserably cold on that visit, we decided to come back when it was more pleasant.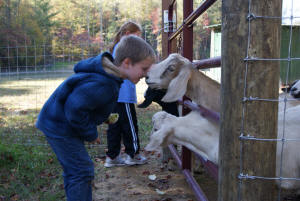 When I made reservations for this trip, the initial fee for camping was reasonable. Enota is a non-profit preserve that focuses on ecology and the environment. They have imposed fees to offset the "environmental impact" of their visitors on the area. So, just be warned, they add $5 per day for each child, plus a flat $10, then $5 a day for additional vehicles (in my case, our car carrier), and $5 for a fire permit (includes wood). So, the total cost of camping at Enota Mountain Retreat for a family of 6 for 4 nights (with firewood)? Just shy of $275. One may get the feeling of being nickeled and dimed, or even punished for having too many children. I don't want to linger on this because the money is, after all, going for a good cause. I also feel compelled to mention that, once you've paid for your site, the amenities are, for the most part, free. The farm tour, most popular with the kids, was free, and we participated twice.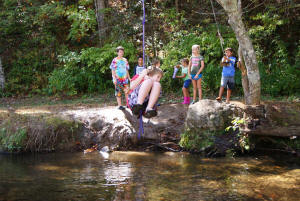 A simple rope swing makes for lots of fun.

On Friday, our first full day at Enota, we didn't leave the park. There were hardly any visitors, so the kids had the in-ground trampolines to themselves. They also discovered a rope swing that swung out over the creek allowing them to get good and wet. Thankfully, the afternoon sunshine kept them from getting too cold. At 4pm we joined other campers for the farm tour. This was an awesome experience for the kids (and Mom and Dad too). The animals are very tame and friendly, and milking the cow was an experience they will never forget.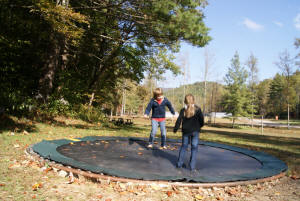 In-ground trampolines. Ingenious!
On Saturday, we drove down to Hiawassee to attend the Fall Festival. It was our first event at the Georgia Mountain Fairgrounds, and we were very impressed. Numerous vendors and exhibits made the visit an educational and entertaining experience. More on that later. On the way back to Enota, we stopped at
Track Rock Gap
to check-out some ancient petroglyphs carved into rock formations.

Sunday morning was cool, breezy and a little overcast. We decided to hike up to the first set of waterfalls. The hike isn't long, it's just a pretty steep climb. The reward at the end is well worth the huffing and puffing. After that, we took a drive up to Brasstown Bald. At 4,784, Brasstown Bald is the highest point in the state. It was very cold and windy, Rebecca had to buy a couple of extra shirts in the gift shop. The view was spectacular, and the fall colors were already brilliant.

After returning to Enota that afternoon, we once again attended the farm tour. By now, the kids were familiar with the animals, and the animals seemed to know them. What a great experience. We also grew to like the farm tour guide, a former Amish farmer with over 40 years experience. He was knowledgeable, friendly, and quite funny.
In summary, the weekend was one we'll remember forever. And, while the cost for camping initially seemed high, we'll probably be back for another visit in the Spring. For more details and lots more pictures,
click here
.