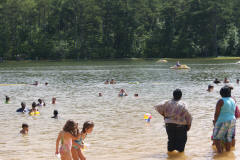 John Tanner Park is a "former" Georgia State Park located in Carroll County near Carrollton. Today the park is
operated by Carroll County. This is a relatively small park with a unique history, there are several pros and cons to visiting here.

John Tanner Park has two lakes, one with a rather large beach and paddle boats. The story of John Tanner and his little "piece of Florida" in Carrollton Georgia is very interesting. During the 1950's, John Tanner decided to build a Florida resort in Georgia. He had 8 train-car loads of Florida sand hauled in for the
beach, planted palm trees a
long the shoreline, and draped Spanish moss
f
ro
m the trees.
During the 50's and 60's,
the park was a popular destination.
The park was even frequented by Carrollton native Rita Hayworth (a famous actress in her day to you youngsters).
Eventually, the resort became a state park. It's hard to imagine the park as a state park today. It is now very much a local county park with lots (and lots) of locals enjoying the accommodations. The beach is still there, but the palm trees and Spanish moss are long gone. The campground needs some updating, but isn't half bad. The only draw-back to camping here (on the weekends anyway) is the large crowd of beach patrons.