Live Oak Landing is located in Freeport, Florida, on Black Creek, just off the Choctawhatchee Bay. It's not the Florida you expect. It's a little darker, a little less commercial, a little more native, a little wilder. Live Oak Landing is a fish camp and a luxury RV resort in one. This makes for an interesting mix.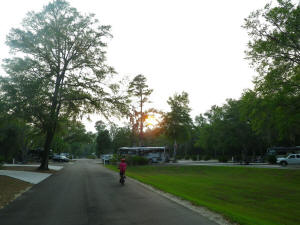 The Richardson Tribe is not big on RV parks. We appreciate the larger, more natural sites of state parks. Live Oak Landing is
a hybrid of the two. Natural surroundings with the luxuries of a plush resort. The creek and bay offer great boating, fishing, canoeing, and kayaking. The resort offers large pull through sites and a clubhouse with teak furnishings, a massive gas grill, and big screen TV.
In addition to the clubhouse amenities, Live Oak Landing provides a variety of other family entertainment options. A selection of indoor and outdoor games are available like Horseshoes and Bocce Ball. If you want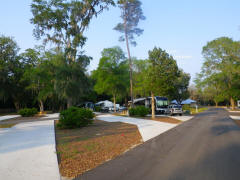 to go canoeing, on a boating tour, or on a fishing expedition, Live Oak
Landing knows just the skipper to serve your needs.
Fishing is a popular and productive pastime here at Live Oak Landing. With a boat ramp, docks, and a very nice creek side pavilion, the options are almost limitless. During our stay at Live Oak Landing, the manager arranged for canoes, paddles, and life jackets for the entire Richardson Tribe. From the park's banks, one can paddle out to Jolly Bay and Choctawhatchee Bay, or up Black Creek just like the Native Americans did centuries before.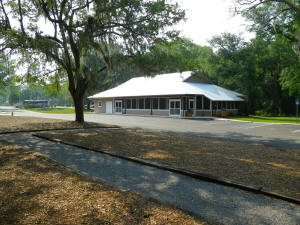 If your interests lean more toward beaches, shops, miniature golf (and regular golf), go karts, and water parks, they're all just
down the road. San Destin, Destin, Fort Walton, Seaside, Seagrove, Grayton Beach, and Panama City Beach are all just a short drive away.
As I mentioned before, this is a brand new RV park. The concrete pads have barely solidified. How it evolves in the coming
years depends a lot on the clientele the park attracts. The big-rig friendly sites and cottages (for sale) make it a great retirement park. Access to deep water lends itself to sportsmen. Families wanting an alternative Florida experience may influence the park's direction.

A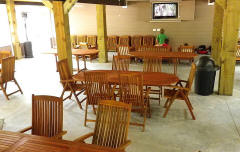 s a family of six, I must admit, staying at Live Oak Landing was like visiting a "friend with a perfect house" and no children. It's almost TOO NICE for kids. The bath house and restrooms were spotless. The grounds are lavishly landscaped and meticulously maintained. Visitors are expected to keep a tidy campsite, which can prove a challenge for a family of six with bikes, chairs, and fishing poles. I hope the park continues to maintain high standards,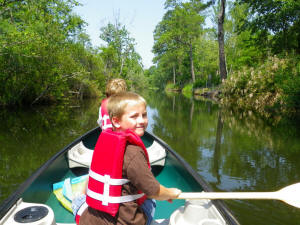 because it's nice to visit a a place
that
seems to care.
On the negative, it was
unusually hot while we were
visiting (June). It would hav
e
been a big plus to have had a pool, fountains, or misting stations to provide some cooling. The kids spent a good deal of time in the large screened pavilion with ceiling fans and a large screen TV.
Rebecca and I spent the evenings by the fire overlooking Black Creek. It was beautiful and relaxing. The smoke helped keep
the yellow flies at bay. You see, one of the prices you pay for staying in such a tropical place is bugs. There are bugs. Deal with it.