Florala State Park, Florala, Alabama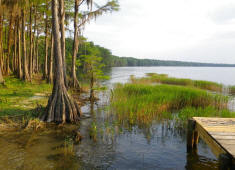 As a child (60's and 70's,) and throughout my teenage years, my family visited Florala, Alabama regularly. My mother grew up here. Even now, my mother and father, both in their 80's, attend the annual family reunion here in July. This quaint old town is situated on the Florida/Alabama state line. In fact, the family property was actually located in both Alabama and Florida, which made tax-time very interesting. On this particular extended PB&J Adventure, I thought it would be a good time to introduce my children to this part of their history.

One feature that sets Florala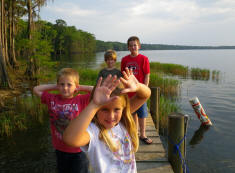 apart from many similar towns is Lake Jackson, the largest natural lake in the state (500 acres). I'm not sure about that claim, seeing as how half the lake is in Florida, but I'm not one to argue. When I was young, there was a municipal park here. A beach and an old pier with a diving board. There were rumors of alligators, but I never saw one.
Since those days, Alabama has made a state park of the property. We love state parks, and we were passing through anyway, so we made it a layover on our Florida Panhandle adventure.
When we arrived at the park, the public areas looked great. As we approached the campground, we were a little worried about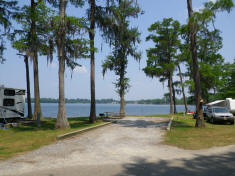 the entrance and the appearance around the office and RV storage area. Those worries were quickly tossed aside as we passed the entrance and into the campground. It's small, but very nice. I would have normally selected a lakeside site (which was available), but the Jeep trailer made a pull through more desirable.

After setting up, I took the bikes off the racks so we could explore a little. We discovered a boardwalk that wound through the trees and wetland for a while before becoming a paved path. It was an easy and enjoyable ride. The kids were anxious to reach the playground on the beach, so we went straight there.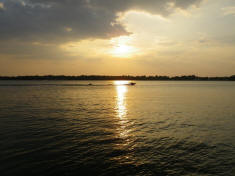 They played for a while until we started seeing lightning i
n the far distance. We sprinted back to the campground.

While camping/RVing at Florala State Park, we rode bikes several times, fished, and watched the exotic ducks, geese, and all their babies wander around the campground looking for food. I also have to mention the sunsets. Anyone that knows the Richardson Tribe knows we love sunsets. The combination of peace and quiet, water, sun, and cypress trees with Spanish moss is very relaxing. We will return. Click here for lots more pictures and a park overview.