Adventure Journal - Entry Date: September 2012 - More
Each September, James H (Sloppy) Floyd State Park hosts an incredible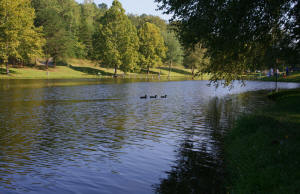 event called Outdoor Adventure day. We try to attend every year if possible.
Sometimes the
weather
doesn't cooperate,
but this year was perfect. We
always camp when attending
this event because the park is beautiful and
Sloppy Floyd features one of our all-time favorite campgrounds. With just 25 sites, the campground isn't as large and crowded as some state parks, and the sites are level, spacious, and plush with native trees and shrubs.

With all that said, perhaps the greatest bonus for the Richardson Tribe is the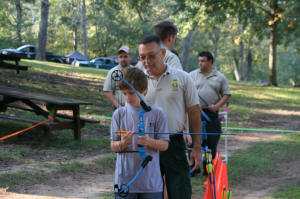 abundant
supply of fossils and semi-precious gemstones scattered over the
ground. Sloppy Floyd is a rockhounding paradise, and we are rockhounds. On this trip, we found mostly druzy
quartz and fine lace agate, but we also
found a geode or two.

We arrived at the campground on Friday evening, set-up the camper, and
built a fire. The evening brought a slight chill,
one of the first of the Fall season. Early in the evening, some other campers stopped by and told they used the PB&J Adventures website to plan their family camping trips. Their extended family was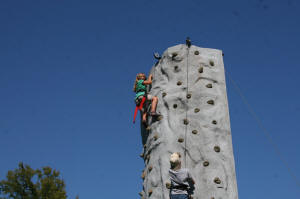 visiting the park for Adventure Day because they had learned of it on our website. Needless to say, that made my day.
The Adventure Day festivities began at 9am Saturday morning, and we were there bright and early, beating the crowds. The kids started with a
virtual video hunting game, but I think one or two thought it was a little too
realistic. Then it was archery. All the kids did great, but Lainey actually received applause after her round. She put five arrows in a perfect grouping, all within just a few inches of one another. Santa brought all the kids bows and arrows two years ago, and their practice has paid off.
From the archery arcade, we wandered to the opposite end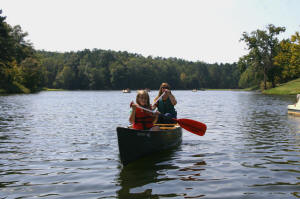 of the lake where the rock climbing wall was located. Lee Thomas and John Micah
opted to try their hand at fishing while Lainey and Heath conquered the wall. Then it was bb guns where all the kids did very well. Again, practice makes perfect. Soon it was lunchtime, and that meant free hot dogs and soft drinks for all. Heath thought they were the best hot dogs he'd ever tasted.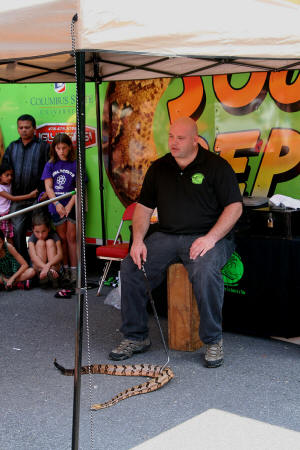 The afternoon was spent in much the same way. We rode the pedal
boats
and canoes and fished. I'm not sure how many times the
rock wall was
scaled or how many hot dogs were eaten, but a good time was had by all. When 2pm
rolled around, we
were ready for the snake show. Each year at Outdoor Adventure Day, Jason Clark from Southeastern Reptile Rescue provides an educational and entertaining reptile demonstration. He teaches what snakes are dangerous and how to recognize them at a safe distance. We all learned some great lessons about how snakes keep the rodent population under control, and how venom
is being used to cure certain illnesses. We now know and respect snakes a lot more.

We spent the balance of the day enjoying the campground. Lee Thomas and I enjoyed a game of chess while the others made a movie with Lainey's new camera. The movies' main stars, made from marshmallows, were Marsha and Marshall Mallow. They went on a camping adventure that ended tragically with a fire. Perhaps we'll air it on YouTube after a little editing.

For lots more details and pictures of James H Sloppy Floyd State Park and Outdoor Adventure Day, click here.