The Park that Inspired the Tribe.
In 2007, the Richardson Tribe reserved a cabin at James H Floyd State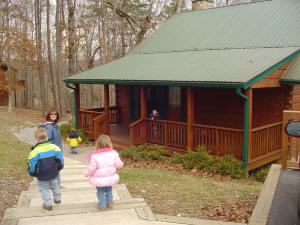 Park, a place we'd visited only once. The cabins were new and very clean, and the park was lovely. We spent two glorious days relaxing and having fun. This trip stands out for us mostly because the two and a half-year-old twins' experienced their first real hike. As we were checking out on our final day, a couple in a "class c" motorhome were checking in. We admired their coach, and dreamed that we might have one some day. It was approximately one month later that we purchased our first motorhome. The rest is history.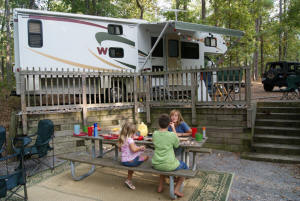 James H (Sloppy) Floyd State Park
is a precious gem nestled in a little valley
near Summerville in Northwest Georgia. The park is named for James H Floyd, otherwise known as "Sloppy," a local politician (state rep.) from decades ago. The surrounding area is primarily wooded, but there is also
plenty of farm land.

Regarding amenities and activities, James H (Sloppy) Floyd State Park has
plenty. The park features two lakes where row boats and pedal boats can be rented. Motorized boats are not permitted on either lake. If you have a Georgia fishing license, you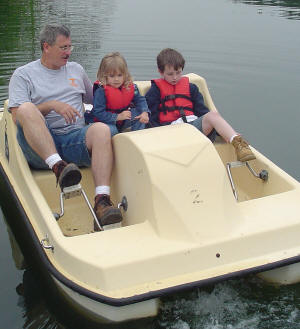 can fish from shore or the footbridge that crosses the lake.
There are two
playgrounds: one near the lake and one in the campground. If you have children and plan to camp, we really recommend the sites 20 through 25 are very near
the playground. Site 21 practically owns the playground, making it convenient to enjoy a campfire while the children play nearby. Hiking and mountain biking are virtually unlimited because the Pinhoti Trail runs along Taylors Ridge, a short hike from the lake. If a shorter hike is what you have in mind, you can hike up to the old marble mine and reflection pool (en route to the Pinhoti).
If you like rockhounding, this is the place for you. Taylor's Ridge, especially this portion, is covered with shattered rocks. Apparently a geological event caused the limestone to buckle and shatter, like an explosion. The result is amazing.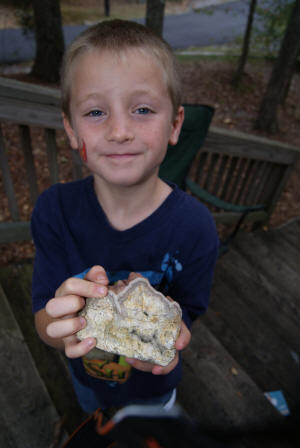 What's even more amazing is the fact that much of the rock is a very fine laced agate. You will also find rose
quartz, druzy quartz, pink marble, purple chert, fossils, geodes, and more. There are also a couple of other rockhounding and fossil sites nearby.

There are occasional events at Sloppy Floyd State park. One of our favorites annual events is Adventure Day. This is an entire day dedicated to activities such as rock climbing, fishing, archery, bb guns, snake shows, good (free) food, and more.

In summary, this James H Floyd State Park is simple, but it's beautiful. There's no miniature golf or game room. It's a place to fish, hike, mountain bike, rockhound, and relax. This is our kind of place.
For more pictures, details, and PB&J Adventure Journals, click here.