An Unusually Beautiful State Park on Florida's Gulf Coast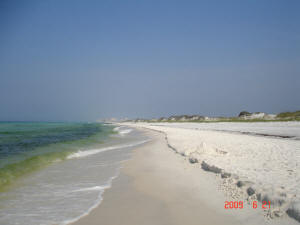 Over three miles of remote beach to explore

Cold wet weather tends to ignite a desire to seek a warmer climate. Birds fly south, so why
can't I? There are many desirable destinations in the sunshine state, and Topsail Hill Preserve State Park is one of our favorites.

Topsail Hill Preserve State Park is located on the west end of Highway 30A in Walton County, Florida near San Destin. In addition to providing an affordable stay in a very exclusive (expensive) area, Topsail features over 3 miles of pristine secluded beach completely void of homes. condos, shops, and hotels. Absolutely nothing but sea, sand, and nature adorn this small piece of Florida's coastline.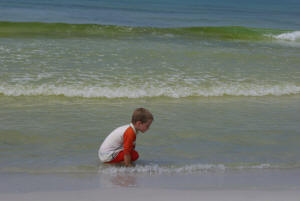 There are lots of crusty critters to catch and shells to collect

The beach is typical for the area (awesome). Fine snow-white sand and emerald waters inspir
e
beach lovers. There are three
methods of
getting to the beach from the
campground. You can ride a bike, walk, or take a shuttle that runs periodically. We like the bike option. You can coast most of the way down to the beach, and the ride back isn't terribly bad either. Just be aware, it's about a half mile bike ride down to the boardwalk that leads to the beach. If you plan to walk or bike to the beach, make sure you can carry your beach supplies!
Wildlife abounds at Topsail Hill Preserve. The park features over 1,600 acres of fish-filled fresh water lakes and sand dunes, some as as much as 25' high. Deer, raccoon, coyote, and snake are just a few of the land creatures in the park. It's unlikely you'll encounter any of these, but you might very well see their tracks in the dunes (no humans allowed). You might be more likely to see a sea turtle than anything else. They seem to know it's a safe haven for them.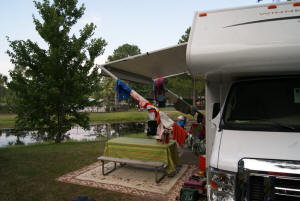 This site overlooks a small pond and swimming pool

The campground is nice. It's set-up like an RV park, but most sites are a respectable size.
They have full hookups and a decent laundry facility, so it's painless to stay as long as you like. The pool and recreation area is exceptionally nice. It even features a shuffle board court.
There is no limit to local dining, entertainment, and activities near Topsail Hill Preserve. The park is just minutes from San Destin and Destin, and a relatively short drive to Panama City Beach. These resort areas offer numerous water parks, miniature golf courses, parasailing, personal water craft rentals, kayak rentals, bike rentals, deep sea fishing, golf, and much more. There is never a dull moment in this part of Florida. It's one of our all-time favorite destinations.
For more details, including lots more pictures, click here.